Jessica Burley
Ceramics, Sculpture
Jessica Burley has a passion for sculpting clay. In her undergraduate work, Jessica explored a variety of media in her Art Education degree. Ceramics was a large part of the course work, but her drawing, painting and sculpture classes can be seen as an influence upon her work.
Jessica taught high school art in North Carolina, before moving back to Ohio to finish her Masters at OSU. Once settled in Columbus, she began to take classes at the Cultural Arts Center, where she continues to work today. Jessica's work has been featured around Columbus, including at Junctionview studios, Black Creek Bistro, Caterina Ltd., the Carnegie Gallery at the Columbus Main Library and the student-faculty show at the Cultural Arts Center. She is also a member of CAW, Creative Arts of Women, a Columbus based collective of women artists.
Her last body of work, "Strata", pays homage to the wonders of the natural world below our feet. Each piece shows layers of the earth and is a study in texture and form. Often hidden surprises such as fossils, lost artifacts and caves create interest in the wall hangings. Plants and natural roots featured in some artworks further the natural feeling of the work. All plants are air plants, which require no soil to grow and thrive.
Her newest series focuses on Grimm's fairy tales and reliquaries.
Jessica can be reached by email at jessica.burley7@gmail.com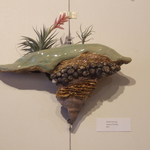 ---
I allow businesses to purchase or display my work.
---
Visit Artist Website
Contact Artist