Lindsy Nova
Lindsay Calvert
Jazz, Modern
Lindsay Nova currently specializes in contemporary hula hoop dance with single, double, and triple LED(glow) and fire hoops. Her background in modern dance and ballet gives her a technique and charismatic energy that charges the audience from the stage to the night club.
Upcoming Events
---
Apr. 6- MiM0SA at Skully's

Apr. 8- April Showers at Fort Rapids Water Park

Apr. 9- Miracle Dancer with Tupaco Dance and Dublin Dance Center

Apr. 22- Papadosio at Newport Music Hall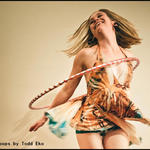 ---
I allow businesses to purchase or display my work.
I am available for demonstrations.
I offer classes.
---
Visit Artist Website
Contact Artist