The Game Show Game Show
Marty Parker
Theater/Performance
Experience outrageous fun during your date night, birthday party or team building event with the new concept of being on a realty Game Show that is broadcast live in Columbus, Ohio! Wear sparkle vests, spin the Wheel of Fortune Cookie, dare to eat a jelly bean when playing Tear Tractor and complete Spin-It-To-Win-It Challenges while participating in this room escape alternative. For the first time ever, the general public can purchase a ticket to be on a live broadcast of a Game Show that allows loved ones to watch you at home. Prepare to enter a realm of epic sequence, disco lights and mountains of laughter as you buzz in to compete for prizes. You haven't had this much fun with your friends and family in ages!
Upcoming Events
---
Weekends from May 13th - Oct. 22nd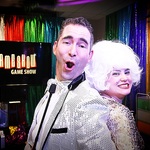 ---
I allow businesses to purchase or display my work.
I am open to selling my work under payment plans.
I am available for demonstrations.
---
Visit Artist Website
Contact Artist