Ashley D. Pierce
Ashley Pierce
Drawing, Mixed Media, Painting
Ashley D. Pierce is a self-taught mixed media artist born and residing in Columbus, Ohio. Working on wood panel, utilizing watercolor, colored pencil and carving with a Dremel tool, Pierce creates characters and scenes from what she describes as an invisible world hidden just beneath a thin film of our reality.
Pattern and texture play an important role in her work as she states it allows her time to build relationships and work out conflicts with her subject matter. The unique and narrative style invites and encourages the viewer to create their own story and dialog with each piece.
Pierce continues to explore new tools such as wood burners and sculptural elements to incorporate into her work. She invites new challenges and opportunities to expand her creative world and share her art.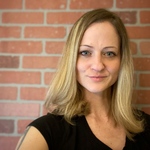 ---
I allow businesses to purchase or display my work.
---
Visit Artist Website
Visit Gallery Website
Contact Artist