Roger Kent Grosswiler Jr
Mixed Media, Painting, Theater/Performance, Rock, Fiction , Non-fiction
First off, I'm not a painter. I was tricked into painting by a good friend of mine. I went to his house expecting one of our typical evenings: Pink Bubblegum White Owls, Canasta, and our favorite beverage (equal parts Grape Shasta and Bawls Energy Drink, sipped out of snifters). Instead, after a couple head fakes, I found myself flimflammed into painting one side of the door to his studio/lab/workshop. When I was done I saw that I'd painted a garish portrait of a Carol Burnett/Idiot era Iggy Pop hybrid. I'm talking totally heinous. I was relieved to be done with the painting crap. Well, what do you know? I was feeling just codependent enough to paint the other side of the door upon his request. Halfway through that one I decided I liked it and now I have a bunch of paintings I suppose I'm responsible for. I don't know. I own some paint. I own some brushes. I drag weird shit into my house from the neighborhood alleys. My wheels never stop spinning. Hopefully this stuff makes some people smile. Hopefully it makes others scratch their heads. Hopefully it makes at least one or two people say, "The man is clearly berserk." All in all, I'm just happy to be here.
In addition to the painting I've also played the drums in a variety of bands for over 20 years, write fiction, nonfiction, a little poetry, and have acted in some student films. So yeah, I do some stuff.

Upcoming Events
---
Show w/ Charles Wince & Paul Bear at Chas Ray Krider's Invisible Gallery - Sat June 15th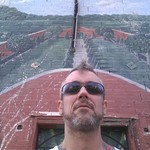 ---
I allow businesses to purchase or display my work.
I am open to selling my work under payment plans.
---
Visit Artist Website
Contact Artist