Christine Guillot Ryan
Mixed Media
Taking fragments of the external world, I merge them with paint to capture visions of morphing inner realities.

Perception is reality, and I am fascinated how people gther fragments of what they decide is true and important– memory, stories, cultural influences, experiences, ideas and beliefs– and shape them into personal world views.

Beyond conscious cognitive connections, the intagibility of emotions re-color my world view, starting with a single moment, evolving over days, and years. They take the shape of both the subtle and dramatic. I celebrate the acts of choice and belief that form our individual worlds.

I create mixed media works to explore the subjective nature of perceptions and to express the tension between the material and the intangible.


Additional upon request
Upcoming Events
---
UPCOMING EVENTS:

Solo Exhibition:
Pieces of PARTS - July 24 - Sept 26 2015
Mixed Media Works by Christine Guillot Ryan

Artist Reception AUG 2, Sunday 2-4pm

High Road Gallery
12 E. Stafford Ave Worthinton OH 43085
Gallery hours: Fri - Sat Noon - 4pm
highroadgallery.com

Previous Exhbits and Awards upon request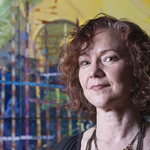 ---
I allow businesses to purchase or display my work.
I am open to selling my work under payment plans.
I am available for demonstrations.
I offer classes.
---
Visit Artist Website
Contact Artist