Keely Shaffer-Glenn
Keely Glenn
Jazz, Modern, Dance
Keely Shaffer-Glenn received her MFA in dance from The University of Iowa in 2010 and was awarded the prestigious Dean's Graduate Fellowship. Previously, she graduated from Interlochen Arts Academy and after high school received her B.A. in dance education for Brigham Young University. She has since relocated to Columbus, Ohio where she participates in dancereach residencies through Balletmet in city schools and is involved in various independent dance projects. As an independent movement designer, she plays with the idea of the absurd and the familiar to create accessible, whimisical works for the child and the adult. Her passion for the arts and her family is currently leading her to explore new ways of using technology and the Internet to make, perform, and teach dance.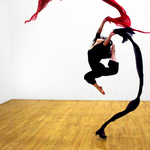 ---
I allow businesses to purchase or display my work.
I am open to selling my work under payment plans.
I am available for demonstrations.
I offer classes.
---
Visit Artist Website
Contact Artist