Fields Of Art
Mike Fields
Painting
I am an Oil & Acrylic painter of People of Substance. That list includes Sports Greats, Classic Hollywood Legends, Historical Figures and your Friends & Family. I use White, Black and Shades of Grey with a Pop of Color occasionally.
Upcoming Events
---
I am currently hanging in Los Angeles, California at the Parker Room a historic jazz club formerly known as Billy Berg's in Hollywood. Also on the forecast is the Whisky A Go Go and two shows in Europe Paris, France in October 2017 & Oxford, England in February 2018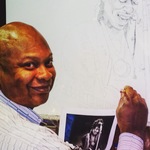 ---
I allow businesses to purchase or display my work.
I am open to selling my work under payment plans.
I am available for demonstrations.
I offer classes.
---
Contact Artist