Michael B. Hays
Michael Hays
Jewelry, Metal
Michael B. Hays is a metalsmith working primarily in silver and pewter creating holloware, dining utensils, and other serving implements. After graduating from Ohio State University with a B.A. in Anthropology in 2000 he took up silversmithing as a hobby at the Cultural Arts Center in Columbus, studying under Mary Hallam Pearse and Kristi Kloss and later with Fred Fenster at the Penland School of Crafts. In 2005 he co-curated with his wife, Carol Boram-Hays, the exhibition Bringing Modernism Home: Ohio Decorative Art 1890-1960 for the Columbus Museum of Art. Over the last ten years he has exhibited his work throughout the U.S., and has received numerous awards, including the Rio Grande Jewelry Award in 2008, recognition from the Ohio Arts Council, and the 2011 Dresden Artist Residency from the Greater Columbus Arts Council. He has had pieces published in several books on contemporary metalworking, and has work in the permanent collection of the Ohio Craft Museum in Columbus, Ohio.
Upcoming Events
---
Current Exhibitions:

Best of 2014, Ohio Craft Museum, Columbus, OH

Selected Previous Exhibitions:

2013 - Uncontained: Ohio Metalsmiths and the Vessel, Concourse
Gallery, Upper Arlington, OH
- 1st Prize for Jewelry/Functional Metals, 69th Annual Ohio
Exhibition, Zanesville Museum of Art, Zanesville, Ohio.

2012 - The Art of the Drinking Vessel, Pump House Arts Center, La
Crosse, WI

2011 - CraftForms; 16th Annual International Juried Exhibition
of Contemporary Craft, Wayne Art Center, Wayne, PA
- GCAC Artist Awards Exhibition, Columbus Museum of Art,
Columbus, Ohio
- An Ohio Metalsmith in Dresden, Ultramaringelb Gallery,
Dresden, Germany

2010 - Setting the Mood: The Artful Table, Craft Alliance Gallery,
St. Louis, MO
- Liturgical and Sacred Art 2010, Springfield Art Association
Gallery of Art, Springfield, IL.

2008 - CraftForms; 13th Annual International Juried Exhibition of
Contemporary Craft, Wayne Art Center, Wayne, PA
- CRAFT USA '08 National Craft Triennial, Silvermine Guild Arts
Center, New Canaan, CT
- The Ring Show: Putting the Band Back Together, Georgia
Museum of Art, Athens, GA

More upon request of resume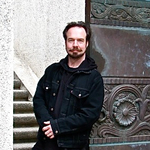 ---
I allow businesses to purchase or display my work.
I am open to selling my work under payment plans.
I am available for demonstrations.
I offer classes.
---
Contact Artist