Paula J. Lambert
Non-fiction, Poetry, Visual Arts
Paula J. Lambert
is a literary and visual artist. The focus of her work in her two most recent poetry collections has been the anatomy of birds: by digging deep into their bones, their beaks, and their feathers, she has found her way to issues both deeply personal and broadly political. Author of A Lesson in Possibilities (2019), The Ecstasy of Wanting (2018/19), The Sudden Seduction of Gravity (2012), and The Guilt That Gathers (2009), she is a past recipient of an OAC Individual Artist Fellowship and has been awarded two GCAC grants. She has twice been a fellow of the Virginia Center for Creative Arts. She owns Full/Crescent Press, a small publisher of poetry books and broadsides, through which she has founded and supported numerous public readings and festivals that support the intersection of poetry and science.
Lambert has been actively involved in all stages of writing, publishing and performing poetry. She enjoys finding interesting and unusual ways of publishing and performing work and has been involved in everything from letter press printing to slam poetry competitions.
As an accomplished multidisciplinary visual artist, Lambert is particularly interested in using recyclable materials. Cardboard is a favorite medium. Her work includes mixed-media collage, sculpture/assemblage, book arts, wearable art, and iPhone photography. Her work has been accepted to numerous exhibitions including the Biennial Juried Exhibition at OAC's Riffe Gallery.
Lambert is available for features, workshops, and speaking events.
Please contact the artist at paulajlambert@gmail.com for more information.
Upcoming Events
---
"Harbingers of (Climate) Change: An Eco-Poetry Workshop." Ohio Poetry Association Quarterly Business Meeting and Workshop. Grandview Heights Public Library, 1685 W. First Ave., Columbus, OH. October 12, 2019. 1:00-4:00 p.m.
Featured reading, Words and Wine. Steele Mansion, 348 Mentor Ave., Painesville, OH. October 16, 2019. 6:30 p.m.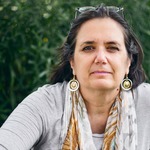 ---
I allow businesses to purchase or display my work.
I am available for demonstrations.
I offer classes.
---
Visit Artist Website
Contact Artist