Katherine N. Crowley
Painting, Sculpture
Katherine Crowley was born 1976 in Columbus, Ohio. Her childhood was filled with ballet, music and art lessons, and expeditions into the nearby creeks and ravines. Inspired by stories of headstrong girls, Walt Disney movies and the library of children's books that her mother provided her, she drew picture after picture of the world that surrounded her, both real and fantastical.
Ms. Crowley received her Bachelor of Fine Arts from Miami University in 1999. She has worked in the graphic design field for healthcare, retail, architectural, and legal clients where she specializes in branding and corporate identity. After several years of working solely as a designer, Ms. Crowley ventured into the world of fine art. She is active in the Worthington Area Art League and sits on the of Board of Directors. She is frequently found working with of Central Ohio Plein Air, The Ohio Portrait Painters, and at the Columbus Cultural Arts Center. In 2007 she began publishing the online magazine The Avant-Garde (www.the-avant-garde.com) which keeps readers up to date on current events in the Columbus art world and beyond.

Ms. Crowley maintains a fine art studio in the Clintonville neighborhood where she works on oil paintings and small bronze sculptures as well as photography and found object constructions. Most of her fine art works center around a narrative and incorporate personal memory and symbolic imagery with a focus on the legacy of the individual.
Ms. Crowley has completed several commissions and her work is in many private collections. Her paintings and sculptures have been featured in both solo and group exhibitions throughout the Central Ohio Area, Washington D.C. and Japan, including the City Center Gallery at the OSU Urban Arts Space; The Peggy R. McConnell Arts Center in Worthington; The Miami University Art Museum in Oxford, Ohio; and as part of the National Cherry Blossom Festival in Washington D.C. In 2012 her work was included in the PNC Arts Alive Arts Exchange between the cities of Worthington, Ohio and Sayama, Japan.
Upcoming Events
---
The January issue of The Avant-Garde is available to view at the following link http://www.the-avant-garde.com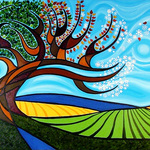 ---
I allow businesses to purchase or display my work.
I am open to selling my work under payment plans.
---
Visit Artist Website
Contact Artist