Annette E. Jefferson
annette jefferson
Theater/Performance
Professional teaching artist Dr. Annette E. Jefferson links her passion for empowering people of all ages with her enthusiasm for American history to craft authentic living history performances.
Through stories, dialect, costume, and songs, Jefferson presents the American saga brimming with living characters and their colorful stories that whet the intellect, stir the heart and ignite the imagination. Each unique program reflects Jefferson's training in history, language arts, developmental reading and drama.
Jefferson says, "It pleases me to see people experience a range of emotions as they connect with their history--our American story. There are times of laughter, sadness and even tears for some."
Performances Researched, written and performed by Dr. Jefferson.
• Coretta Scott King Queen of Kings
• Harriet Tubman Escape to Freedom
• Sojourner Truth Destiny's Traveler
• Underground Railroad stories
• Remembering Miss Rosa Parks
• The History Connection
• African American Women During the Civil War
• I'm Gonna' Ride the Chariot in the Morning Lord! Freedom Riders from 1841 to 1961
All programs are aligned with Ohio Academic Content Standards for reading, writing, social studies, and the arts.
Comments:
"Dr. Jefferson's (performance) was 'spot-on'. Our students came to the performance well prepared. Dr. Jefferson has an excellent way about her and the… monologue was adjusted as students engaged in critical questioning throughout the performance. Well paced. Well done.."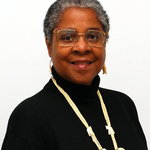 ---
I allow businesses to purchase or display my work.
I am available for demonstrations.
I offer classes.
---
Contact Artist