The Evolution Control Committee
TradeMark Gunderson
Modern
TradeMark G. (aka Mark Gunderson) is a musician and artist, best known as founder of the band The Evolution Control Committee in 1986. He is also a culture jammer, hardware and software designer. The Evolution Control Committee is best known for its copyright-challenging stance, earning a legal cease & desist order from CBS for sampling newscaster Dan Rather, but also earning The ECC credit for creating the Mash-Up genre of music. TradeMark has appeared as the face of The ECC on air from CNN to C-SPAN and in print from Spin to the Macmillan Dictionary, and has given nearly 1,000 performances and presentations at festivals, concert halls, bars, and galleries all over the world.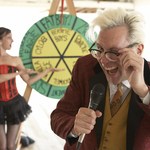 ---
I allow businesses to purchase or display my work.
I am available for demonstrations.
---
Visit Artist Website
Contact Artist