Kevin Keiser
Ceramics, Design
My pieces begin on the wheel, a base is applied and the form is altered. I may drop the structure
onto an object, or strike it to achieve a shape that suggests movement, a balance of tension
and serenity. Some pieces don't survive this process. Slips and underglazes are applied providing color and texture. The work is bisque fired then glazes are applied by sponge, brush, dip, or airbrush.Some pieces benefit from a second or third glaze application and firing to create depth within
the glazed surfaces.

My desire is to create work that inspires people to notice the beauty in their environment,
to provide a visual meditation on the beauty of their world. I want my ceramic pieces to hold a
space for people to claim and honor their own creative spirit.
Upcoming Events
---
Join me and my fellow artists at The Four Seasons Columbus Friday, May 4th from 6-9:30 pm.

Sample the complimentary beverages, hors-d'oeurves, and desserts. Talk with the artists and chose something beautiful for yourself or a friend.

Kevin Keiser
614 226-5785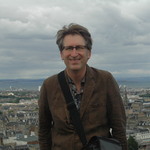 ---
I allow businesses to purchase or display my work.
I am open to selling my work under payment plans.
I am available for demonstrations.
---
Contact Artist