Vince McGuire Images
Vince McGuire
Installation, Photography
Vince McGuire has been a commercial photographer for more then 40 years. As partner in the photo/design firm of McGuire-Wills & Associates, he concentrated on producing visuals for education/training programs and advertising materials. Throughout his business career, Vince also found time to practice his creativity and skill by photographing images he enjoyed--mountain vistas, landscapes, historical architecture, country scenes and still life photography. Some of his favorite images capture moments that people typically don't see. Recently, Vince has selected a variety of negatives and digital files from his extensive library to print and market. Attention to detail and lighting, enhance the beauty of his color and black&white art.
Upcoming Events
---
Nov. 3, 2014 thru Dec. 2014 I will have 18 to 20 pieces ( depending on space ) at the Arlington Bank 4621 Reed Rd. 43220.

Nov. 7,8,&9th The Clintonville Arts Guild Holiday Show at the Whetstone Rec Center N. High St. in Clintonville.

Next March 2015 at the Grandview Library. Also 18 to 24 pieces.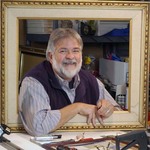 ---
I allow businesses to purchase or display my work.
I am open to selling my work under payment plans.
I am available for demonstrations.
I offer classes.
---
Contact Artist