Square Thirteen
Craig Heath
Folk, Band
Square Thirteen is named for a block of real estate in historic downtown Lancaster, Ohio. It is the place where General William Tecumseh Sherman and Senator Thomas Ewing grew up, and it communicates our desire to connect with history both instrumentally and with our songwriting.
The band came together from different perspectives, each having been forged in varying musical fires:

Craig Heath grew up in West Virginia and has a background in gospel music, but he is also a well-known songwriter. He penned "The Artist" which has received radio airplay across the United States, "Hillsborough Bay" which has been played on folk/acoustic radio in the US as well as Ireland, England and Australia, and "Buffalo Creek 1972", a song about the southern West Virginia mining disaster. It has received critical acclaim in newspaper and radio outlets across Appalachia. He has written and recorded three full-length solo CDs and written over 100 songs. He is also a multi-instrumentalist and the band's primary arranger.

Jeff Branham comes from a well-known bluegrass tradition. His father, Roosevelt Branham, is one of the best-known banjo players in Ohio bluegrass history. Jeff is also an accomplished writer and rhythm guitar player. He also plays bass. A relative newcomer to professional songwriting, Jeff's "Scattered Pictures" has already received airplay and "Meigs County" and "Long Ago in Tennessee" will be released later this year.

Laura Elder comes from the Celtic music world. She was a founding member of Evening Rose, a group that played locally for several years. Laura is also a songwriter and plays mountain dulcimer and woodwinds. She is the author of several songs including "Better Homes" and "The Tree". She is an in-demand workshop leader for the mountain dulcimer.

Aaron Kocher is the percussionist for Square Thirteen. He provides tasteful percussion to all live performances and is fresh off his first year with the band.

Greg Ramey plays keyboards for the band. He is a very accomplished instrumentalist and arranger of music.
Upcoming Events
---
Across the Great Divide will be released May 1, 2015!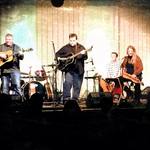 ---
I allow businesses to purchase or display my work.
I am open to selling my work under payment plans.
I am available for demonstrations.
---
Visit Artist Website
Contact Artist