Aaron Sheldon
Photography
Aaron Sheldon (°1975, Cleveland) makes photos and films. By creating situations and breaking the passivity of the spectator, Sheldon investigates the dynamics of landscape, including the manipulation of its effects and the limits of spectacle based on our assumptions of what landscape means to us.
His works focuses on aesthetically resilient, thematically interrelated material for memory and projection. He finds that movement reveals an inherent awkwardness, a humor that echoes our own vulnerabilities. The artist also considers movement as a metaphor for the ever-seeking man who experiences a continuous loss.
His works establish a link between the landscape's reality and that imagined by its conceiver and explores the concept of landscape in a nostalgic way. He focuses on the idea of 'public space' and more specifically on spaces where anyone can do anything at any given moment.
His works isolate the movements of humans and/or objects. By doing so, new sequences are created which reveal an inseparable relationship between motion and sound. Sometimes they appear idiosyncratic and quirky, at other times, they seem typical by-products of American superabundance and marketing.
His works are saturated with obviousness, mental inertia, clichés and bad jokes. They are characterized by the use of everyday objects in an atmosphere of middle class mentality in which recognition plays an important role and demonstrate how life extends beyond its own subjective limits and often tells a story about the effects of global cultural interaction over the latter half of the twentieth century.
Aaron Sheldon currently lives and works in Columbus. In addition to his photography Aaron teaches one-on-one and group classes in photography.
Upcoming Events
---
Cincinnati Photowalk -April 26th 2015
MPEX Street Photography Exhibit - May 2015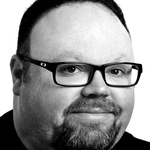 ---
I allow businesses to purchase or display my work.
I am open to selling my work under payment plans.
I am available for demonstrations.
I offer classes.
---
Visit Artist Website
Contact Artist