Justin Frehs-Watercolor Artist
Justin Frehs
Painting, Portraiture, Visual Arts
I am a watercolor artist and I specialize in photo realistic portraits. My work is modern, with hints of expressionism, impressionism, abstract and even fine art. My inspiration comes from life, music, art, love, pain, isolation, overcoming adversities, but mostly, I get inspired by people. I create my own palettes and break traditional rules of watercolor painting and tend to change styles every few months to stay current and to challenge myself.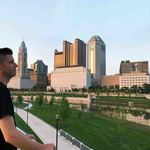 ---
I allow businesses to purchase or display my work.
I am available for demonstrations.
I offer classes.
---
Visit Artist Website
Contact Artist