Brian Jones
Mixed Media, Painting, Visual Arts
"Creating art has always been an enjoyable process for me. I have found great comfort in abstract and design art forms. They offer total freedom to express my emotions, how I interpret movement and life"
Brian A. Jones is a local visual artist who specializes in abstract, abstract landscape, and design. He started creating art early in life, but didn't take it serious until 2006 when his mother, international artist Floristine Yancey-Jones, encouraged him to start showing his works. That was the catalyst that propelled him into the world of art. Since then, he received The Ohio State University Vice Presidents award, which was his first art show. He has been involved in several art shows and sold numerous works. Brian will continue with is art endeavors, perfecting his skill and evolve more and more as an artist.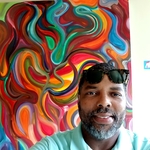 ---
I allow businesses to purchase or display my work.
I am open to selling my work under payment plans.
---
Contact Artist