Sevyn Scott
Alondra Scott
Fiction
An extraordinary visionary, Alondra Scott who writes under the pen name "Sevyn Scott" was born and raised in Columbus, Ohio. Reading a plethora of books throughout her life and having a great passion for creative writing, she decided to embark on her journey as a writer and is living out her true purpose. Experiencing major changes throughout her recent years, she has spent much time reading and listening to motivational videos which drastically changed her way of thinking for the better. Accumulating great inspiration has become important for her to uplift others and has chosen to subtly incorporate it in her writing. Her dedicated goal is to write urban fiction with a meaningful purpose while leaving the reader eager for more.
Upcoming Events
---
Loved by a Savage Part 2 releases on Amazon December 20th, 2018!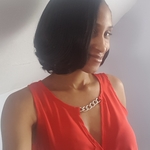 ---
I allow businesses to purchase or display my work.
I am open to selling my work under payment plans.
I am available for demonstrations.
---
Visit Artist Website
Visit Gallery Website
Contact Artist