Gabrielle Solange
Gabrielle Travis
Mixed Media, Musical Theater, Singer-Songwriter, Poetry, Storytelling
Gabrielle Solange is a top 200 Billboard charting singer songwriter producer and TEDx speaker. As an artist and activist in the community she loves to entertainment, educate and empower. Her diverse musical style is what she refers to as "genre-fluid," ranging from powerful pop to free flowing jazz.
2020 performances include the Columbus Museum of Art's Annual Wonderball, The Rhythm of a Woman," celebrating International Women's Day at Natalie's Coal Fired Pizza, and Take Up Space, an event celebrating women of color and her Christmas special with Natalie's Music Hall and Kitchen.
In 2019 you might have seen her at Highball, Comfest, or spinning around like a Disney princess for the premiere of Frozen II performing at Easton's 21st annual tree lighting parade ceremony. She loves to sing at festivals and grand galas, but is most passionate when there is a great cause involved. She has performed at the YWCA'S Stand Against Racism Campaign, the Activists and Agitators event, and many other community functions for organizations including Rise Sister Rise, Franklin County Children's Services' Black Girl Magic, and Tapestry's Hidden Wounds exposing the horrors of human trafficking. Coming through the foster care system and the inner city youth arts programs of Columbus, Ohio she is passionate about pouring back into youth to encourage the next generation and see positive change in our city.
She received the key to the city from former mayor Michael B. Coleman for her former band Fatty Koo's contribution to youth arts. She now works locally and overseas with a variety of organizations, schools and ministries under RunSong Studios, hosting creative workshops with youth and is also a vocal coach to many rising artists.
Amid the lockdowns and concert cancellations Gabrielle took to creating. She released her first indie music video of an original song "Quarantine Anthem" and a video cover of Kelly Clarkson's "I Dare You," incorporating actual footage of the Columbus protests against police brutality in honor of George Floyd and the many lives lost in the fight against racism. Kelly Clarkson personally chose her video as the winner of a contest for Cover Nation. The story behind both projects were featured on Fox 28/ ABC 6's Good Day Columbus.
Gabrielle's story was recently covered in the Columbus Dispatch's Life and Arts Section: https://www.dispatch.com/lifestyle/20200524/coronavirus-setback-wont-stop-columbus-singer-gabrielle-solanges-comeback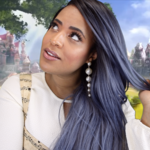 ---
I allow businesses to purchase or display my work.
I am open to selling my work under payment plans.
I am available for demonstrations.
I offer classes.
---
Visit Artist Website
Visit Gallery Website
Contact Artist