Luke Davis
Painting
As an music educator, introducing student to playing instruments and working through expressing themselves through music and performance, I am surrounded by creativity. The inspiration is astounding and I am very fortunate to be able to direct that energy towards making art and making music. My paintings are often abstract, portraits, or both and up for interpenetration. But through all of them, my goal is always to enjoy the process of making the art first, and have the end product second.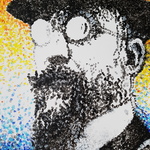 ---
I allow businesses to purchase or display my work.
I am open to selling my work under payment plans.
---
Visit Artist Website
Contact Artist