Sam Craighead
Alternative Rock, Music
In his review of Craighead's 2017 album The Tuesday Night Music Club, Stereogum's Chris Deville wrote, "Craighead has developed a musical language all his own, both in terms of his rich chamber-pop arrangements and a sardonic wit communicated so gently that it sometimes takes a while to realize he's clowning you."
Sam's songs cover autobiographical glimpses and musings on life and masculinity in late capitalist America--the requisite singer-songwriter navel gazing intersecting with stories of hopeful Beanie Baby collectors, eating and dying in fast food restaurants, and the enduring power of '90s popular music. This cheeky obscurity over a soft alt-rock soundtrack has drawn listeners to his work both as a solo artist, and earlier as the primary songwriter of Heavy Mole and Feature Films.
He's refined his balance between satire and sincerity on Self-Portrait w/Fries, a five track EP produced by David Welsh from The Fray, coming out March 22, 2019. He's still clowning you, just more empathetically. And he's crying and snacking the whole time.
Upcoming Events
---
Self-Portrait w/Fries Release Show
March 30, 2019
The Oracle: 1159 Oak St, Columbus, OH 43205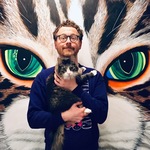 ---
I allow businesses to purchase or display my work.
I am open to selling my work under payment plans.
I am available for demonstrations.
---
Visit Artist Website
Visit Gallery Website
Contact Artist