Sarah Fortener
Drawing, Illustration, Painting
I love any kind of story, whether it is told through pictures, stage, or music. All people carry their own story, and I love trying to capture and recreate that. I want to share these stories with as many people as I can, and I want people to continue learning others' stories through the colorful and dramatic world I have created for them.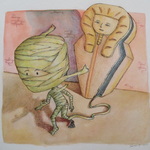 ---
I allow businesses to purchase or display my work.
I am open to selling my work under payment plans.
---
Visit Artist Website
Contact Artist