Alissa Renzetti
Craft, Painting
Alissa Renzetti is a self taught surrealist painter and art doll maker. she began with surreal paintings displaying her work in local galleries and coffee shops, but later combined her love of painting, sculpture and sewing into 3D mixed media creating imaginary, playful figures also known as art dolls. Alissa participates in various juried art festivals and shows where she sells her unique work which spans across a variety of subjects to a wide range of collectors from children to adults. Alissa's work can be seen at 3060 Artworks where she is a Resident Artist and plays an active part in booking and promoting guest artists and curating new work for the gallery. Alissa enjoys sharing her creations with the locals and takes pride in her work with the gallery knowing it contributes to building the community through art.
"I believe the heart of creativity stems from skillful originality. Each of my figures have been sculpted, painted, and sewn with the hopes of evoking a connection to the viewer. No molds are used and each one is unique. My goal is for art dolls to be recognized, appreciated and categorized as Fine Art."
Upcoming Events
---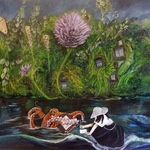 ---
I allow businesses to purchase or display my work.
I offer classes.
---
Visit Artist Website
Visit Gallery Website
Contact Artist