Caleb Jingo
Film/Video, Comedy, Improv, Musical Theater, Puppet, Theater/Performance, Variety/Cabaret, Tap, Dance, Mime, Young Adult
Caleb won "Best Actor in a Leading Role" at the inaugural CAPA Marquee Awards for his portrayal in "Catch Me If You Can" (Carl Hanratty). He proceeded to make his Broadway debut as a nominee of the 2019 Jimmy Awards. Caleb is a three-time member of the All-Ohio Show, and has amassed an extensive list of credits that includes Westerville Civic Theatre's "Mary Poppins" (Bert), Westerville South High School's "The Curious Incident of the Dog in the Night-Time" (Christopher Boone) and Westerville South's "Twelfth Night" (Sebastian). Each earned him the BroadwayWorld Columbus Awards for "Best Lead Actor in a Musical (Community)" "Best Lead Actor in a Play (Educational)," and "Best Supporting Actor in a Play (Educational)," respectively. Caleb is currently pursuing a BFA in Musical Theatre on an Honors track at Ohio Northern University, with minors in Dance and Communication Studies.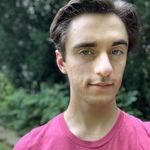 ---
I allow businesses to purchase or display my work.
I am open to selling my work under payment plans.
---
Contact Artist