Steve Perakis
Stephen Perakis
Acoustic, Alternative Rock, Blues, Jazz, Latin, Rock, Soul, Modern
I am a professional musician, bandleader, arranger, composer, songwriter and perform Avant Garde, Blues, Country, Funk, Jazz, Latin, Polka, Pop, Rock, Soul, Surf and just about any music in between. I've performed mostly in Central Ohio for four decades, also in the Eastern and Southern U.S., Thailand, Europe and Columbia, in all types of venues.
Upcoming Events
---
Saturday, August 28, 2021, 10pm, at Dick's Den, 2417 N High St, Columbus, Oh.

https://www.facebook.com/DicksDen

Brett Allen, Steve Perakis and Shane Willis perform Original, and some not original Jazz, Bossa Nova, Samba and whatever else comes up.
https://www.facebook.com/events/437829090793793/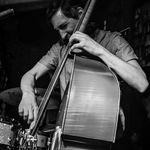 ---
I allow businesses to purchase or display my work.
I am available for demonstrations.
---
Visit Artist Website
Contact Artist