Tod Seitz
Drawing, Film/Video, Design
Tod is an Artist and Teacher who specializes in unique, visionary creations to inspire the imagination. A Wizard of many talents, Tod creates digital collages with Photoshop as well as analog collages and painting. He also works in design, video, animation, and divination. His art has been featured in exhibitions and publications all across the world and his videos have been viewed by millions. His most recent project is a self-published art book known as 'Pixelated'. Featuring over four years of artwork in gorgeous full color pages, it is truly a one-of-a-kind immersive experience!
Upcoming Events
---
Doodle Scool - January 2, 9, 16, 2022 1-3p @ World Peaces Fair Trade in Clintonville. https://www.worldpeaces.com/products/doodle-scool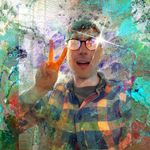 ---
I allow businesses to purchase or display my work.
I am open to selling my work under payment plans.
I am available for demonstrations.
I offer classes.
---
Visit Artist Website
Contact Artist