Spooky Sunday Craft Show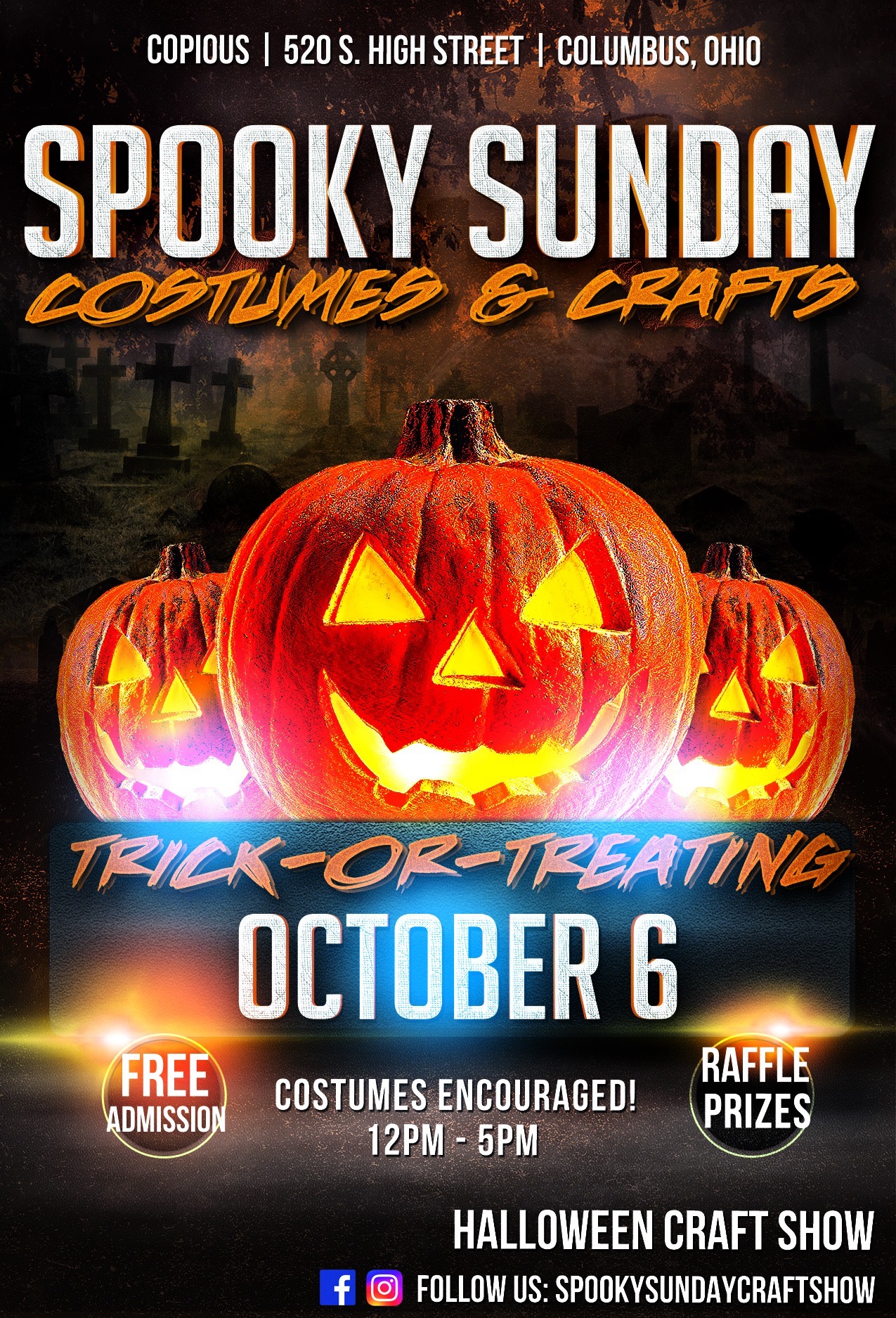 Join us for a Halloween-themed craft show featuring trick-or-treating for adults!
All guests—kids and adults alike—will be able to trick-or-treat while visiting 30+ local vendors at "Spooky Sunday," a unique Halloween-themed craft show. Admission is FREE, and costumes are encouraged. Spooky but friendly monsters will be on hand for guest interaction and to pose for photos.
All ages are welcome to attend and to trick-or-treat Adults can enjoy special spirit drinks available through our private bar area.
Raffle prizes
No admission fee
All proceeds will benefit the Black & Orange Cat Foundation
October 6 | 12p - 5p
Copious
520 S. High Street
Columbus, OH 43215
Our amazing and spooktacular vendors include:
Acid Facial
Annie Axle's Soap & Salve
Athena's Gems
Columbus Ghost Tour
Creativity Oooze
Crocheted Whimsy
Cuddly Creaturez
Darling Little Treats
Dot! Ink
Elemental Creations by Kat
Fearopoly
Handmade In Harmony
Home-made Haunt Props
Jamie Snell Art
Jayma Reads
Jessie Lovano Artwork
KHaus Art Designs
Knotty Shepherdess
Magic and Moon
Making Memories
Misty's Art Dolls
MrSeams
Nightwire Creations
Ryan Caskey Illustration
Shreddy Bear
Starry Eyed Designs LLC
SugarKitty Couture
Sunny's Splendor
Teresa Hoffer, LMT
Trve Kvlt Coffee
UncommonlyAssociated
Wicklessly Escential
The Witch's Bath
Location
---
520 S Front St, Columbus, OH, 43215
Categories
---
Upcoming Events
---
There are no upcoming events.