Altar Response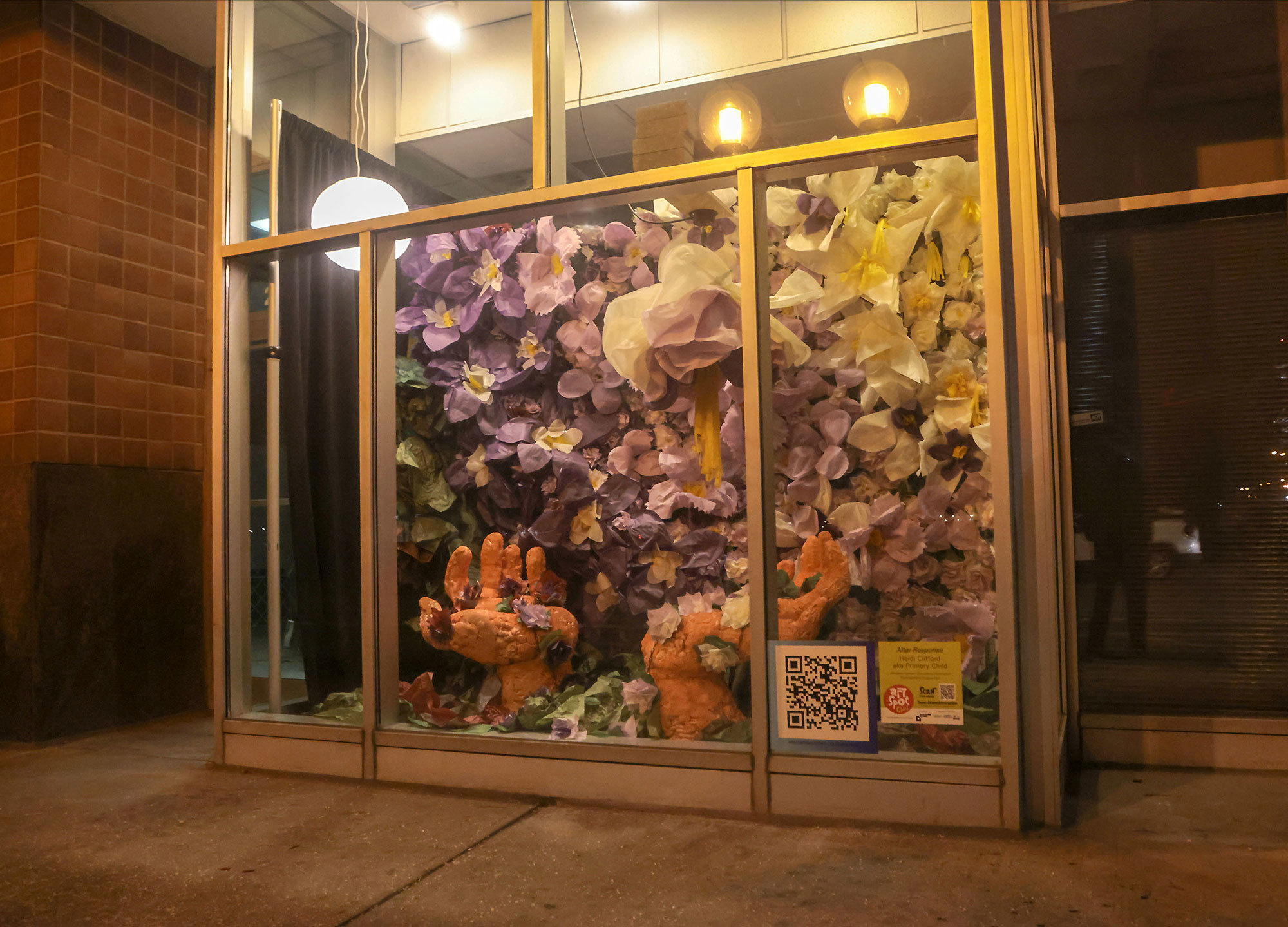 "Altar Response" is a floral-fueled installation that describes color changes certain flowers have undergone in response to climate change. These responses show up as visible and invisible, ultraviolet color shifts from white to purple petals, and vice versa. These shifts don't necessarily entail decay, but do affect how bees and other animals see and interact with them for pollination. The floral backdrop highlights six different species of flowers, varying in size and detail. One larger, rotating flower hung from above, is balanced with two large hands anchored on the floor and posed to the audience's point of view. They hold small floral chains—one lively, one decaying—showing these issues are in our hands, too. An altar response is a call from a pastor or other spiritual leader—the call is from Mother Earth. We must alter our responses now, to show our commitment to serving our planet, our home.
"Altar Response" is part of Art Spot, a series of 13 temporary public art installations that explore themes around climate change and conservation. Featuring 14 artists and nine locations in and around downtown Columbus, Art Spot installations are in the windows of partner businesses and nonprofits through the first half of 2023. Art Spot was co-directed by Amy Leibrand and Stephanie Rond.
For More Info
Please note: The Greater Columbus Arts Council (Arts Council) does not own or manage any public art. For the purposes of this database many pieces were entered by the Arts Council while we continue to search for the appropriate owner/manager of the work and other information to complete the entry. The Arts Council has tried to gather all available information about the works in this database, however, we acknowledge there may be missing or inaccurate information. If you can help us correct any inaccuracies, or provide more complete information, we would be grateful. Please use "Something missing? Please send us a note" below.
Something missing? Send us a note.
Partner
Window Partner: Columbus Downtown Development Corporation

Attributes
Street Parking
Wheelchair Accessible
ADA Accessible
Outdoors
Nearby Public Art
Nearby Events