Science Spectrum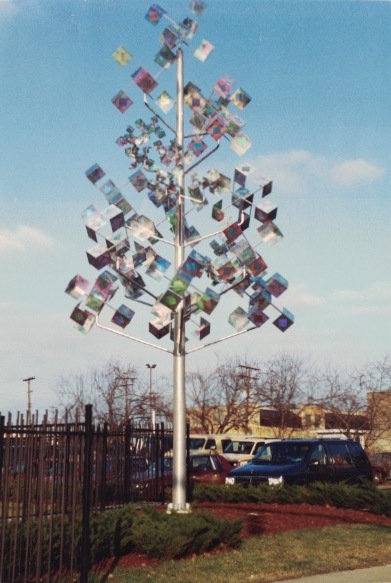 A tree with a thin metal column for its trunk and pipes as its branches. The leaves are depicted as three sided cubes colored by the refractions in the mylar surface.
Plaque Text
---
"This kinetic exhibit celebrates Isaac Newton's discovery that all light contains color. The wind driven elements are surfaced with diffraction gratings which break the white light into the visible spectrum"
Dates
---
Made: Apr 18, 2021

Location
---
333 W Broad Street, Columbus, OH, 43215
Please note: The Greater Columbus Arts Council (Arts Council) does not own or manage any public art. For the purposes of this database many pieces were entered by the Arts Council while we continue to search for the appropriate owner/manager of the work and other information to complete the entry. The Arts Council has tried to gather all available information about the works in this database, however, we acknowledge there may be missing or inaccurate information. If you can help us correct any inaccuracies, or provide more complete information, we would be grateful. Please use "Something missing? Please send us a note" below.
Something missing? Send us a note.
Artist
---
William Wainwright
Nearby Public Art
---
Nearby Events
---