Ohio Theatre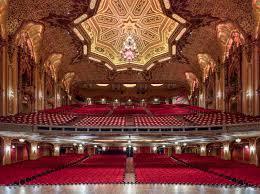 With more than 100 performances each year, the Ohio Theatre is one of the state's busiest performing arts facilities. It's lush interior, outstanding acoustics, and state-of-the-art stage facilities have made it a favorite of leading CAPA-presented performers such as Carole King, Julie Andrews, Yo-Yo Ma, Yanni, Anne-Sophie Mutter, Kenny G, Canadian Brass, Liza Minnelli, John Denver, the Boston Pops, Garrison Keillor, Lyle Lovett, Itzhak Perlman, and Dan Fogelberg.
When Scottish-born architect, Thomas W. Lamb designed the Ohio Theatre, he envisioned "a palace for the average man." It opened in 1928 as a Loew's movie house, complete with its own orchestra and theatre organ. In addition to movies, live performance shows touring the Loews circuit found a home on the Ohio stage. During the heyday of vaudeville, many top performers played the Ohio, including Milton Berle, Ray Bolger, Cab Calloway, Buddy Ebsen, Martha Raye, Jean Harlow, Ginger Rogers, Kate Smith, and a young emcee with a violin named Jack Benny.
To decorate and furnish the Ohio, Loew's chose Anne Dornan, one of the first women to graduate from the Columbia School of Architecture. Dornan traveled around the world to select art and furnishings, even going on a safari to find appropriate decorations for the "Africa Corner" in the lower lounge of the Ohio. Approximately $1 million was spent on art and furnishings - more than the cost of the building itself!
Please note: The Greater Columbus Arts Council (Arts Council) does not own or manage any public art. For the purposes of this database many pieces were entered by the Arts Council while we continue to search for the appropriate owner/manager of the work and other information to complete the entry. The Arts Council has tried to gather all available information about the works in this database, however, we acknowledge there may be missing or inaccurate information. If you can help us correct any inaccuracies, or provide more complete information, we would be grateful. Please use "Something missing? Please send us a note" below.
Something missing? Send us a note.
Attributes
Street Parking
Wheelchair Accessible
Indoors
ADA Accessible
Nearby Public Art
Nearby Events