Katerina Harris
Mixed Media
Katerina Harris is an interdisciplinary artist/administrator with the TRANSIT ARTS youth arts program and attended Fort Hayes Metropolitan Education Center and Columbus State Community College. Katerina creates images that comment on the world around her through the wonder generated by patterns and colors. People radiate vibration and color, creating patterns reflecting their unique personalities. Katerina is inspired to show the beauty and cadence found in the patterns of those she paints.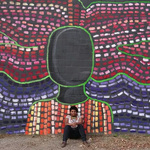 ---
I allow businesses to purchase or display my work.
I am open to selling my work under payment plans.
---
Visit Artist Website
Contact Artist