Janis Mars Wunderlich
Ceramics
As a busy creative artist and parent to several wonderfully rambunctious children, I am a grateful recipient of an unending flow of quirky, make-believe imagery. The books and tales we read, the pets that parade around us, dress up time, homework time, even dinner time with all the ensuing chaos- every moment of my day brings another situation which my mind churns into images. But coupled with that instantaneous inspiration is a continuous, unending flow of daunting housework, crusty laundry, piles of dishes, domestic overload, wrestling matches, and edgy, independent teenage attitude!
This fantastic dichotomy of family life frustrates and fascinates me, and I use my artwork as a way to process all of the beautiful and frenzied contrasts that make up my day. In an attempt to balance studio time with all the domestic issues and family needs, I literally integrate studio/sculpture time into my routine all day long. It is not uncommon for me to be making dinner, working on a sculpture, and telling a story to my kids at the same time to keep them entertained. So it should come as no surprise that there are a lot of juggling, balancing, writhing creatures with complicated surfaces!
I have come to realize that the core of my individual identity is wrapped up in my family. The mothering, nurturing, and protective instincts within me are so inherent that I tend to playfully blend human imagery into animalistic imagery in my mind. The intricate surfaces of my ceramic mother figures are laden, even dripping with kids. The figure is clearly overwhelmed and almost engulfed in the frenzy. But it is precisely this writhing, detailed layering that make the figures so delicate and deliciously intriguing. The surfaces almost literally crawl with life as they celebrate the challenges and rewards of family life.

Upcoming Events
---
Huntington Museum of Art, SOURCES AND INFLUENCES, Huntington, WV

23rd Annual California Conference for the Advancement of Ceramic Art, Presenter, Davis, CA

Currently on view at SHERRIE GALLERIE, Short North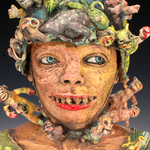 ---
I allow businesses to purchase or display my work.
I am open to selling my work under payment plans.
I am available for demonstrations.
I offer classes.
---
Visit Artist Website
Contact Artist