Janet Alsup Oil Paintings
Janet Alsup
Painting, Portraiture
I'm an oil painter specializing in custom portraits of pets - particularly dogs.
I honed my oil painting skills with people portraits, then people started asking me to paint their pups. It's rewarding because of the bond between humans and their furry BFs. Oil pet portraits start at $250 for 8x8 inch. I offer custom pet ornaments and portrait urns too. Please contact me with any questions or to get the process started - all I need is a photograph. If you have several favorite images, include them. I'll do my best to create a portrait you will cherish.
I have a BA in Design and worked as a graphic designer. I stopped to raise a family then took portrait painting classes at Columbus College of Art & Design with Ernie Viveiros - the best art teacher I've ever had.

My work has been shown at group exhibits and you can find me at art festivals and dog shows across Ohio.

Visit my
Etsy Shop
(a pet -lover's paradise) for dog breed art, custom pet ornaments, and more...
Upcoming Events
---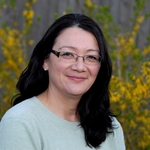 ---
I allow businesses to purchase or display my work.
I am open to selling my work under payment plans.
---
Visit Artist Website
Contact Artist