Aaron Luther Thomas
Aaron Thomas
Mixed Media
Airbrush artist, Aaron Luther Thomas owns and operates Vocational Art Consulting & Co. ("VAC") as a dedicated art consultant and "art-repreneur", the successor of Monastic Arts LLC. (est. 2011); a micro start-up business in the creative sector of Columbus' arts market; an ECDI, the City of Columbus, and SBA, funded company.
For two decades in arts management, he has taught thousands of young people and adults while partnering with or directly servicing nonprofit organizations as a teaching artist, art administrator and/or program coordinator (i.e., in-school, afterschool, summer-camps, libraries, museums, prisons, rec-centers, daycares, festivals, and bible studies, etc.).
ART PRODUCTS & CREATIVE SERVICES
Social Practice Art: Art Education, Arts Administration, Program Coordination, Grant Writing & Reporting, Curriculum Development, Contracting/Commissions, Host Events, Consulting, Presentation Speaking, Life-Coach/Mentoring, Residencies/Fellowships, Etc.
Art Forms: Commercial Art, Street Art & Graffiti, Face Paint/Body Art, Painting (Acrylic, Airbrush, Oils, Tempera), Mix Media & Collage, Apparel Design, Caricatures/Portraitures, Murals/Banners, Public Art/Instillations, Drawing Illustration (Ink, Pencil, Pastels, Chalk), Graphic Designs (Digital Art, Logos, Album Covers), Photography/Videography, Video & Sound Production, Masonic Art, Heraldry Art, Christian Iconography, Etc.
Live Performances: Lecturing/Presentations/Demos, Thespian Drama, Poetry/Spoken-Word, Musician, Painting, Sketching, Still Life Drawing, Martial Arts, Marksmanship, Etc.
Author/Writer: Hymns, Poetry, Op-Ed Reviews, Blog Articles, Short Story, Children's Literature, Non-Fiction Literature, Comic Narrative & Illustration (Sequential Art), Etc.
Skills & Abilities: Small Business Start-Up, Management, Accounting, Sales, Marketing & Communications, Writing/Authorship, Leadership, Training & Development, Collaboration, Production, Performance, Quality Control, Coaching & Mentorship, Customer Service, Commercial Art, Teaching, Curriculum Development, Public Speaking, Concessionary Vending, Spoken Word/Poetry, Fine Arts, Applied Arts, Pop Art, Airbrush, Civic Activism, Philosophy, Ministry, Theology, Etc.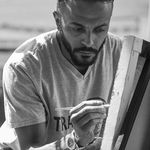 ---
I allow businesses to purchase or display my work.
I am open to selling my work under payment plans.
I am available for demonstrations.
I offer classes.
---
Visit Artist Website
Visit Gallery Website
Contact Artist