Alice in Wonderland Suite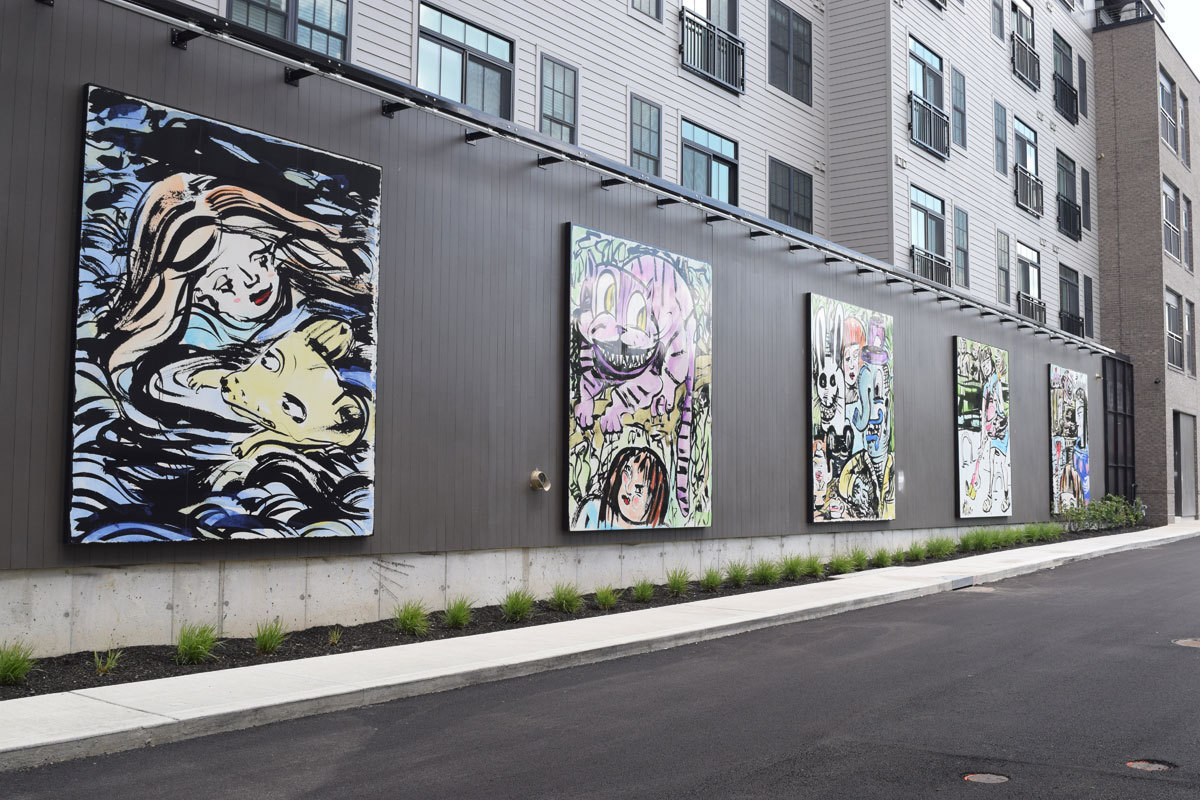 Alice in Wonderland Suite is a series of five panels installed along the south wall of the Library Park development.
The series of murals began as watercolor paintings created by Kirk Mangus (1952-2013) in 2012 that were subsequently reproduced at a larger-than-life scale for installation along the wall that faces the Columbus Metropolitan Library and Topiary Park. Each panel depicts a scene inspired by Lewis Carroll's timeless novel, Alice's Adventures in Wonderland. Viewers can experience their favorite moments in the beloved tale, including Alice's encounter with the Cheshire Cat, the Mad Hatter's tea party, and the Queen's croquet game. The surreal, chaotic world beyond the rabbit hole is perfectly expressed by Mangus's trademark gestural style and spontaneous mark-making.
Please note: The Greater Columbus Arts Council (Arts Council) does not own or manage any public art. For the purposes of this database many pieces were entered by the Arts Council while we continue to search for the appropriate owner/manager of the work and other information to complete the entry. The Arts Council has tried to gather all available information about the works in this database, however, we acknowledge there may be missing or inaccurate information. If you can help us correct any inaccuracies, or provide more complete information, we would be grateful. Please use "Something missing? Please send us a note" below.
Something missing? Send us a note.
Collection
The Pizzuti Companies

Attributes
Street Parking
Wheelchair Accessible
Outdoors
Nearby Public Art
Nearby Events