In Dreams Again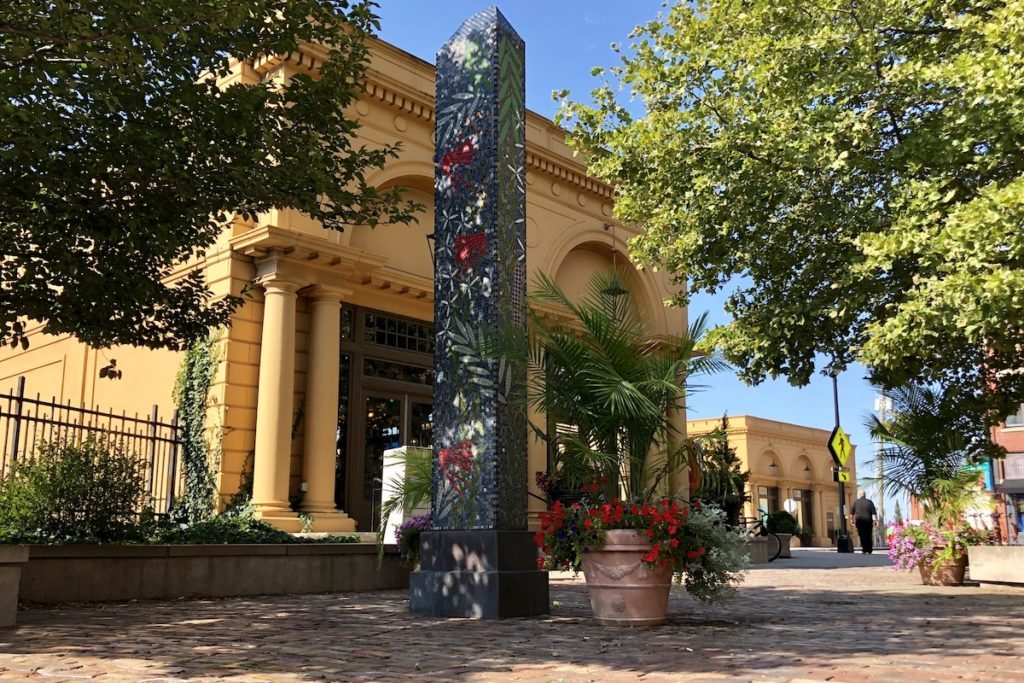 Just north of the Cap is the picturesque Poplar Park, the Short North Arts District's largest pocket park with one of the most exquisite public sculptures in the city, Andrew Lidgus' obelisk titled In Dreams Again. The name is a phrase from Ohio's state song, "Beautiful Ohio," while the design on the totem depicts three cardinals and a trillium, Ohio's state bird and flower, and nature spirits – one receiving water to represent the name "Ohio," based on the Iroquois word meaning "beautiful river," and one receiving leaves to honor the natural history of Ohio. The sculpture stands amongst café tables, chairs, and planters in the park's stone plaza.
Materials
Glass and aluminum
Please note: The Greater Columbus Arts Council (Arts Council) does not own or manage any public art. For the purposes of this database many pieces were entered by the Arts Council while we continue to search for the appropriate owner/manager of the work and other information to complete the entry. The Arts Council has tried to gather all available information about the works in this database, however, we acknowledge there may be missing or inaccurate information. If you can help us correct any inaccuracies, or provide more complete information, we would be grateful. Please use "Something missing? Please send us a note" below.
Something missing? Send us a note.
Artwork Owner
Short North Alliance

Partner
Poplar Park Mosaic Obelisk

Collection
Permanant Artwork

Attributes
Street Parking
Wheelchair Accessible
Outdoors
Nearby Public Art
Nearby Events