Teenuh Stays The Same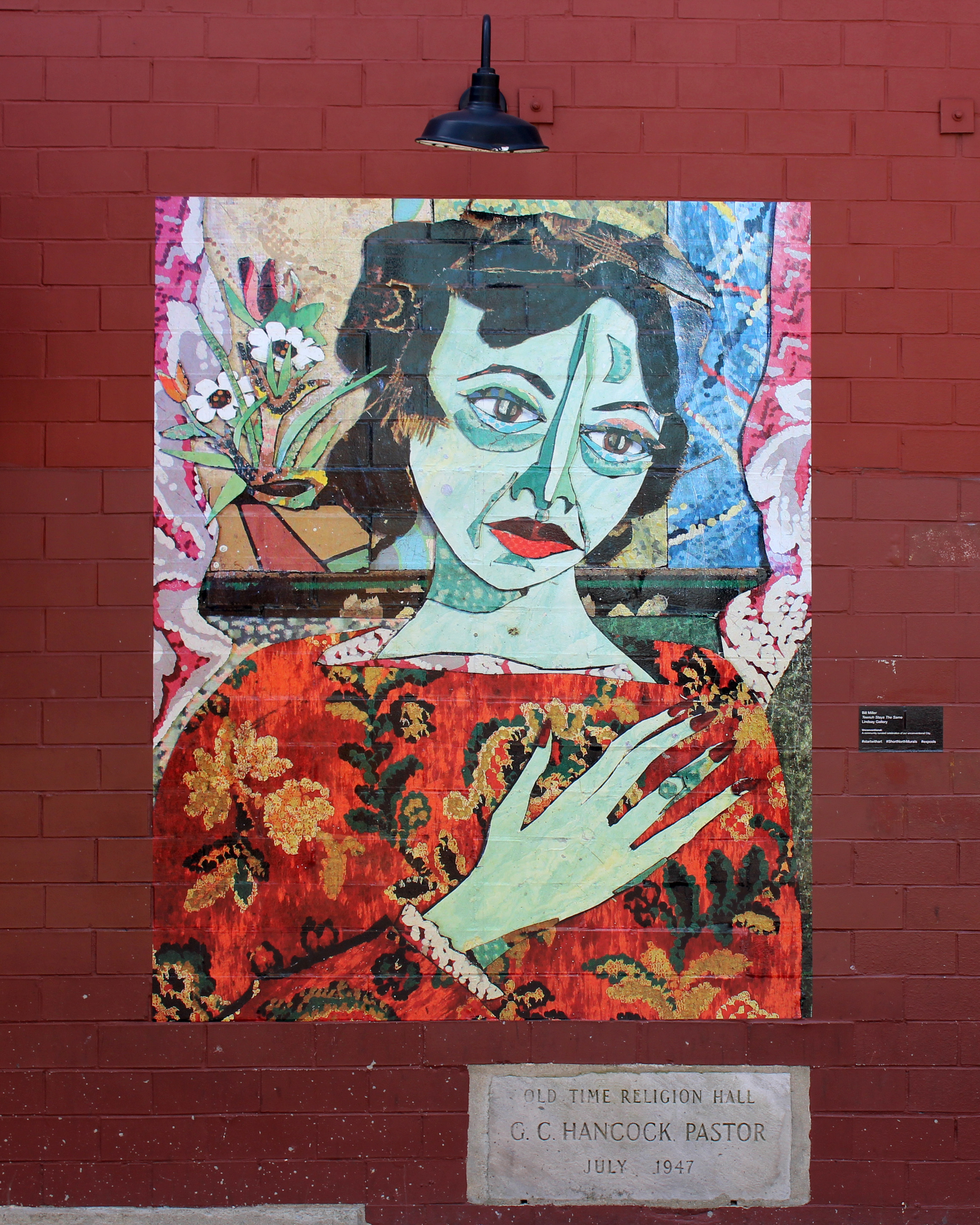 Miller's innovative work is recognized for pictorial assemblages that rely only on the flooring's found surface, with no added paint, to render his subjects. Miller's images range from bucolic landscapes to surrealistic, fiercely political pieces that draw on iconic news and pop culture images that have informed society's common memory. His unexpected use of familiar patterns taps into the medium's nostalgic qualities, imparting a sense of personal history and rediscovery within each piece.
Materials
---
Vinyl
Dates
---
Installed: 2019

Location
---
700 N High St, Columbus, Ohio, 43215
Please note: The Greater Columbus Arts Council (Arts Council) does not own or manage any public art. For the purposes of this database many pieces were entered by the Arts Council while we continue to search for the appropriate owner/manager of the work and other information to complete the entry. The Arts Council has tried to gather all available information about the works in this database, however, we acknowledge there may be missing or inaccurate information. If you can help us correct any inaccuracies, or provide more complete information, we would be grateful. Please use "Something missing? Please send us a note" below.
Something missing? Send us a note.
Artist
---
Bill Miller
Bill Miller is a collage artist who has been using vintage linoleum flooring as his medium for almost 20 years. Born in Cleveland, Miller currently lives outside of Woodstock, New York. Linoleum was the ultimate interior medium, present in all aspects of 20th century life from Grandma's kitchen to the corner drug store and neighborhood school. Bill Miller has been profiled in the New York Times, New York Post, Chicago Tribune, Columbus Dispatch and on the National Geographic Channel. In addition to several shows at Lindsay Gallery his work has been shown in Chicago, New York, Austin, Los Angeles, Seattle, Washington DC and in Europe. In 2007 Miller was honored with a retrospective exhibit at the Pittsburgh Center for the Arts. In 2010, he was chosen to create the cover image for the Frank Zappa CD Congress Shall Make No Law, issued to mark the 25th anniversary of Zappa's anti-censorship testimony on Capitol Hill to support artistic freedom of expression.
Artwork Owner
---
Short North Alliance
Partner
---
Lindsay Gallery

Collection
---
Short North Mural Series, Unconventional
Attributes
---
Street Parking
Wheelchair Accessible
Outdoors
Nearby Public Art
---
Nearby Events
---