Naiads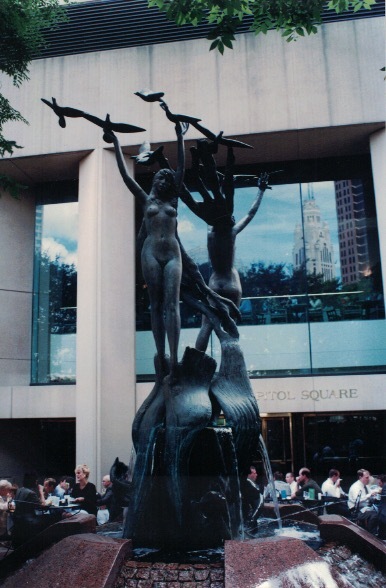 Sculpture of two nude women placed on a bronze base in a three-tier fountain. The figures have outstretched arms with 9 birds flying above their reach. They are standing on a base with sunfish and salmon swimming around. At three locations around the fountain pairs of fish spray water into the upper and lower fountain areas. The sculpture is three-dimensional with no obvious front or back.
Dates
---
Made: 1984

Location
---
75 E State Street, Columbus, OH, 43215
Please note: The Greater Columbus Arts Council (Arts Council) does not own or manage any public art. For the purposes of this database many pieces were entered by the Arts Council while we continue to search for the appropriate owner/manager of the work and other information to complete the entry. The Arts Council has tried to gather all available information about the works in this database, however, we acknowledge there may be missing or inaccurate information. If you can help us correct any inaccuracies, or provide more complete information, we would be grateful. Please use "Something missing? Please send us a note" below.
Something missing? Send us a note.
Artist
---
Jack Greaves
Nearby Public Art
---
Nearby Events
---