Helping Hands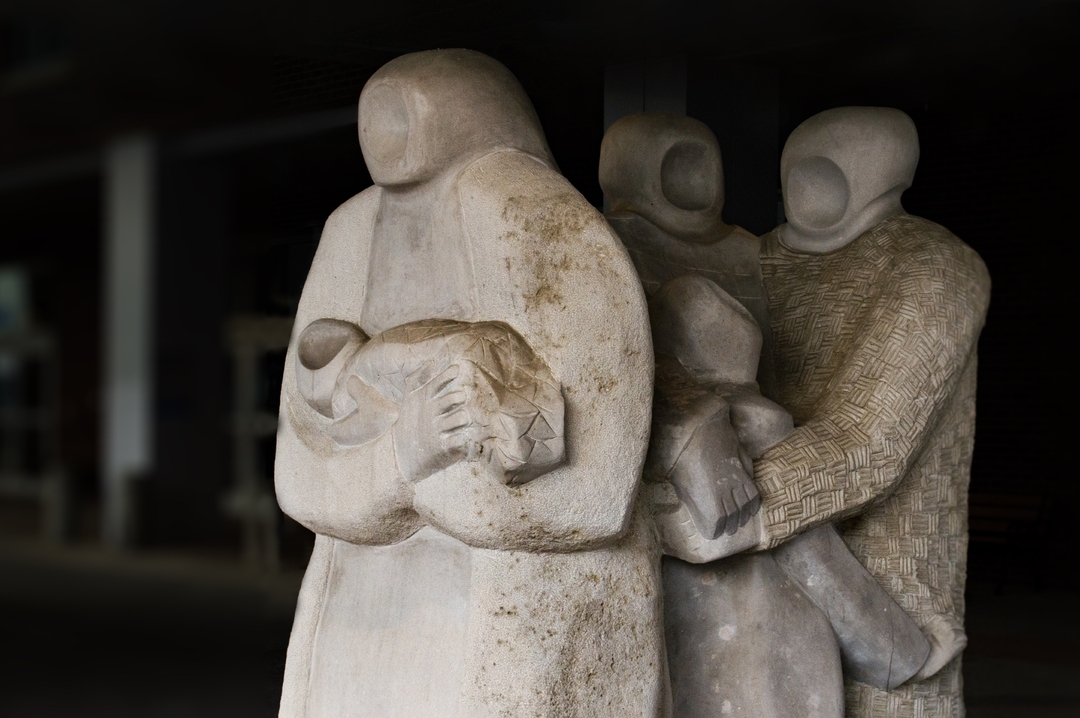 "Helping Hands" by Omar Shaheed depicts a family gathering together outside of the Grant Medical Center in Columbus, Ohio. The figures are faceless, however they look toward one another and engage in a loving embrace. One figure holds a newborn in its arms, while three other figures hold each other. "Helping Hands" was given to the medical center by Dr. Craig W and Deborah Anderson and their family as a gift representing the importance of family. The dedication plaque reads, "This limestone work is dedicated to the families of the Grant Medical Center - the caring staff, the patients, and those who support them." This sculpture is a visualization of Black family, love, comfort, care, and the community itself.
Omar Shaheed is a Columbus native who works primarily in stone and bronze. Shaheed's abstract sculptures often reflect the life of African Americans with themes such as family, love, musical influence and the "ghetto." Shaheed has expressed that he began his career as an artist by using his work as a means to leave behind his early struggles with poverty and today his large scale work can be seen internationally across the US, in Negril, Jamaica, and in the west African nation of Burkina Faso. Each piece vibrates with pride, comfort and awareness to the Black experience and expands upon the themes of love and community.
Visit "Helping Hands" outside of the Grant Medical Center in Columbus, Ohio.
Dimensions: 9ft x 4ft x 4 ft
Please note: The Greater Columbus Arts Council (Arts Council) does not own or manage any public art. For the purposes of this database many pieces were entered by the Arts Council while we continue to search for the appropriate owner/manager of the work and other information to complete the entry. The Arts Council has tried to gather all available information about the works in this database, however, we acknowledge there may be missing or inaccurate information. If you can help us correct any inaccuracies, or provide more complete information, we would be grateful. Please use "Something missing? Please send us a note" below.
Something missing? Send us a note.